The Pico PC software and the PC together record all your telephone calls. The recordings are stored in an extensive database, together with the details of the call such as: Date, time, internal and external telephone number, duration of the conversation, etc. Because of the easy installation, the Pico is ideally suited for a temporary setup, but can of course, also be placed in a fixed setup. You can also use the Pico to record conversations in the room when you connect a microphone to it. It is the perfect call recording solution for private individuals, small businesses, call centers and any other organization.
FEATURES OF THE CALL RECORDER PICO
Storage capacity up to 180 hours per GB on your own hard disk. Database with extensive search functions
Connect to any phone (except digital cordless phones)
Registration of the call with all available data, such as date, time, duration, internal and external telephone number (Caller ID only with analogue telephones), etc.
Play a recording in another phone call
Notification; voice message that a recording is being made
Recording automatically or with start / stop button
E-mailing recordings
Record Skype
Recording 1 to 1 conversations using a microphone
Registering missed calls / voicemail (only when connected to an analogue line)
HOW TO CONNECT?
In the video it is explained how the Call Recorder Pico can be connected to system telephones.
CONNECTION POSSIBILITIES
The Call Recorder Pico can actually be used in every conceivable situation. That is why the Pico can also be connected in various ways. Below you can see how the Pico can be connected:
To record an analog telephone line, connect the Pico as follows: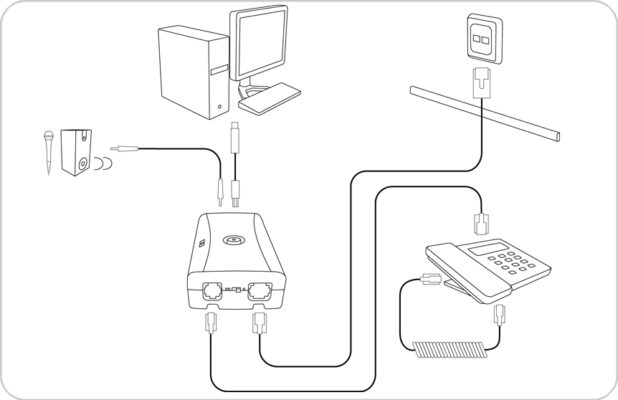 If you use digital or VoIP phones, the Pico must be connected between the handset (handset) and the device itself as shown in the diagram below:
Technical specifications:
Power: USB
Ambient temperature: 0 to 40 degrees Celsius
Dimensions (W/D/H): 52 x 92 x 30 mm
Weight: 100 gram
Guarantee: 2 year guarantee on the hardware
System requirements: Windows 7, 8, 10, Vista (32 or 64 bit)
Connections:
Telecom: POTS, handset, RJ10 – RJ12
Audio: speaker – microphone
Technical approvals:
Safety: EN 60950 – 2003 3e editie
Telecom: TBR21
Box content: 
Telecom/Handset cable
USB cable
Application CD, License
Quick Guide