The Fax Server is usually directly connected to the ISDN II outside line, independent of the telephone exchange (PBX). In fact, when faxes arrive on the ISDNII outside line, the Fax Server accepts them before the telephone exchange knows that there is an incoming call. By installing the Fax Server on the outside line, it is no longer necessary to install an internal analog line, which is normally required for fax machines. Like all Fax Servers, the Vidicode Fax Server ISDNII comes with an unlimited software license, it does not matter if there are 10 or 100 people using the Fax Server. So, …. no hidden costs afterwards.
Incoming faxes
The Fax Server can be used to automatically forward incoming faxes. With this automatic incoming fax routing, using the ISDN line and MSN (Multiple subscriber numbers), users can be assigned an individual fax number without requiring a physical fax line per user. When a fax arrives, the number is forwarded to the Fax server, which automatically forwards it to the correct user. "Unified messaging" at its best. In this way, each department or even every employee can have their own fax number. It is also clear to the sender how the process proceeds.
No more paper
The use of a fax server for all fax traffic makes the use of a paper fax archive superfluous. The Fax Server automatically stores every incoming and outgoing fax digitally. From the day you have connected the Fax Server, you will appreciate the power of fax traffic integrated into the network. Faxes can be sent and received from the employees' PC via e-mail or with the included Fax Server Access software.
Connection diagram
There are three ways to use a Fax Server ISDN Basic Rate:
Single on one or more lines that are only used by the Fax Server.
Together with other devices such as the PBX.
Together with other devices such as the PBX and Fax Recording.
Always use the supplied T-splitters to connect to the ISDN S0 line. The picture below is an example of a possible installation of the Fax Server ISDN Basic Rate.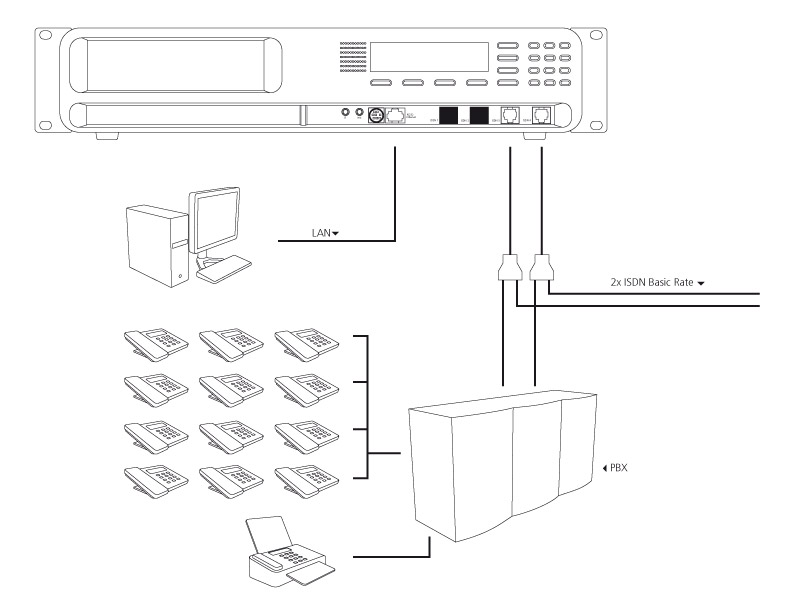 In 'pass through' mode
This is the most common way to connect the Fax Server to ISDN Basic Rate. We call this 'pass through mode'. The difference is that the Fax Server can see and record all communications from the connected terminal equipment (TE). This method is used to record fax transmissions from other machines.
All terminal equipment (TE) to be included is connected to the TE port of the adapter. Usually, this will be the PABX, with one or more fax machines attached to it.