myFAX is a ready-made fax server solution that can be connected to 1 analog fax line. The myFAX solution is controlled from your PC. This ensures that you can easily receive and send faxes from your own workplace.
Sending faxes can be done in several ways:
Every application that can print has the ability to 'print' faxes directly to the Fax Server (Fax Server Printer driver)
Directly from your email client (eg Outlook)
Faxing from a folder (for example on your server)
Receiving faxes
You no longer have to pick up faxes on your fax machine, but you will receive them directly in your Inbox! These fax messages can also be delivered in various formats, including for example PDF. The big advantages are:
All faxes are delivered to the right person in the e-mail.
You no longer need to go to the fax machine to retrieve the fax, you will always receive the message wherever you are, delivered directly to your e-mail!
Schematic overview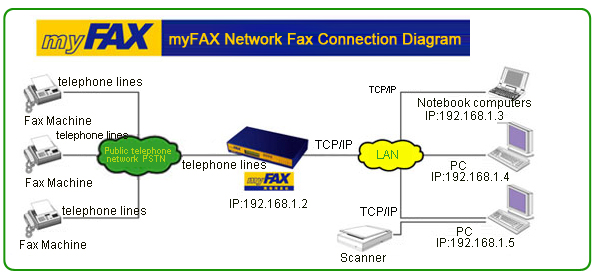 Product specificaties:
| | |
| --- | --- |
| Max. User | 100 |
| Fax Line | 1 |
| Memory | 256M |
| Gross Weight | 1.8KG |
| Dimension | 280X150X45mm |
| Power Supply | External 12V DC,1A |
| Network speed | 10M/100M |
| Fax Compression | MH/MR/MMR |
| Fax Speed | 14.4k/12k/9.6k/7.2k/4.8k/2.4k |
| Fax Line Interface | RJ11 |
| Network Interface | RJ45 |
| Debug Interface | RS232(Computer Link) |
| Fax Standard | ITU-T G3 / G4 |
| FoIP Standard | SIP T.38 |
| Browser Support | IE /Firefox /Netscape |
| Fax Routing | Line /CSID /DTMF /Caller ID |
| Operation Temperature | 0~40 degrees Celsius |
| Storage Temperature | -40~60 degrees Celsius |
Product eigenschappen: 
| | |
| --- | --- |
|  Fax Format | TIFF, PDF |
| Firmware Upgrade | Free |
|  Fax Resolution | 98/196 DPI |
|  Fax over IP | Support |
|  Status Indicator | Support |
|  Auto Fax Send | Support |
|  Fax Broadcast | Support |
|  Failed Resend | Support |
|  Print to Fax | Support |
|  Fax to Email | Support |
|  Email to Fax | Support |
|  Fax to Print | Support |
| Folder to Fax | Support |
|  Auto IP Number | Support |
|  Fax to Folder | Support |
|  Fax Log | Support |
|  Super G3 |  No |
|  Server Management | Support |
|  User Management | Support |
|  Fax Queue | Support |
|  Address Book Limit | No |
|  Network Protocol | TCP/IP |
|  Remote Access | Support |
|  Fax Line Type | PSTN |
|  Standalone | Yes |
|  Record Voice File | Support |
|  Auto Receive Fax | Support |
|  Auto Fax Routing | Support |
|  Internal Transfer | Support |
|  Delay Fax Send | Support |
|  New Fax Remind | Support |
|  Local Fax Directory | Support |
|  Fax Storage | 4000 Pages |
|  Fax View & Edit | Support |
|  Lightning Protect | Support |
|  DID/DDI Digit | User Define(1,2,…25) |
|  Fax Log Control | Support |
|  Address Book | Support |
|  Fax Monitor | Support |
|  Integrate with PBX | Support |
|  Caller ID | FSK |
|  OS Support | MS Windows/ Mac/Linux |